IT FLIES USA 2014
Full results:-
First
The University of Manchester UK, and The University of Dayton, Ohio, who shared the $1,000 first prize donated by The School of Engineering, UD. They also won affiliate membership of The Royal Aeronautical Society, and commemorative coins from The Society of Experimental Test Pilots.
Second
The University of Dayton, Garret Gleason - with his design of a new conceptual micrio jet, who won $300 donated by Merlin Products Ltd.
Third
The University of Dayton, Kyle Koester - with his crop duster design, who won $100 donated by The Calspan Corporation, Buffalo, New York.
Kyle also won the award for the best presentation - a book on The McCook Field, donated by The Society of Flight Test Engineers.
Judging was tricky - all the entries flew well, and were very varied designs, from a human powered aircraft from Penn. State, through to a 787 simulation from Coventry University, UK.
Our many thanks to our sponsors, and our super judges from The Society of Experimental Test Pilots, and The Society of Flight Test Engineers, without whom IT FLIES could not have taken place.
Quotes from the competitors
Mike Pratt - University of Dayton - 'The test pilots and the experience are awesome. They gave a couple of things to work on for my design. The entire experience is invaluable, we get the chance to see how the aircraft we design on paper will perform, not a chance that many students get..'
Kyle Koester - University of Dayton - 'It was really good to talk to guys who know how to thoroughly test a plane, and I am grateful that we have the flight simulator, and that we have the ability to take our paper-created designs and turn them into working flying models to see them come to life!'
Dr. Nick Bojdo - Lecturer, University of Manchester - 'From a learning perspective I am very impressed with the test pilots' ability to talk with the students. They give them feedback to improve their designs and knowledge on other aspects of aircraft performance. Overall the competition was a great learning experience.'
Penn. State Team - 'We had a very different objective to the other teams at IT FLIES. We, as a team have access to a working version of our human powered aircraft, but we wanted to see how the design performed in UD's MP521 simulator, versus actual flight. As most of the students here aren't pilots, having the test pilots' experience closes the gap. Our test pilot gave feedback to fix turning issues, and also gave non-conventional solutions to the turning problem. We would be excited to return next year.'
Archive of winners
Click on the links below for previous competition winners..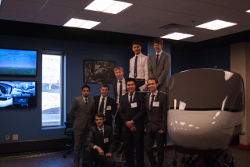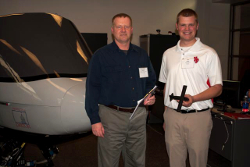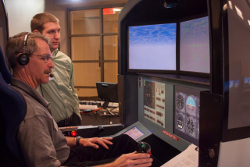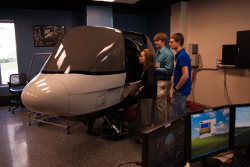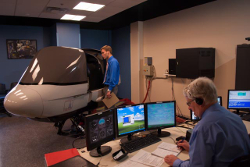 Photographer - Joe Hancock